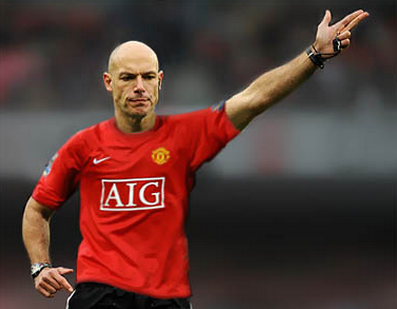 Manchester United and Premier League referee Howard Webb have had an interesting relationship for years, mainly in that he has awarded them a lot of penalty kicks. But there's no way Webb could be the next manager of the Red Devils, right? Right, but you can still bet on him to get the job on one betting site.
European betting site Paddy Power is taking bets on who the next manager of Manchester United will be after current manager David Moyes inevitably flames out and, hilariously enough, Webb is one of the choices available to win the gig at juicy odds of 500/1.
Paddy Power is somewhat known for goofy prop bets like this. They even took bets on who the successor to Pope Benedict XVI would be, listing realistic choices at various odds and celebrities such as Bono at 1000/1.
Given his track record with Manchester United, managing the team would be the only way that Webb could help the team any more than he already does. Wouldn't the next step be for him to manage the club? Fine, maybe not, but throwing down one pound on him would make for the greatest betting story of all time if he did the impossible and got hired.