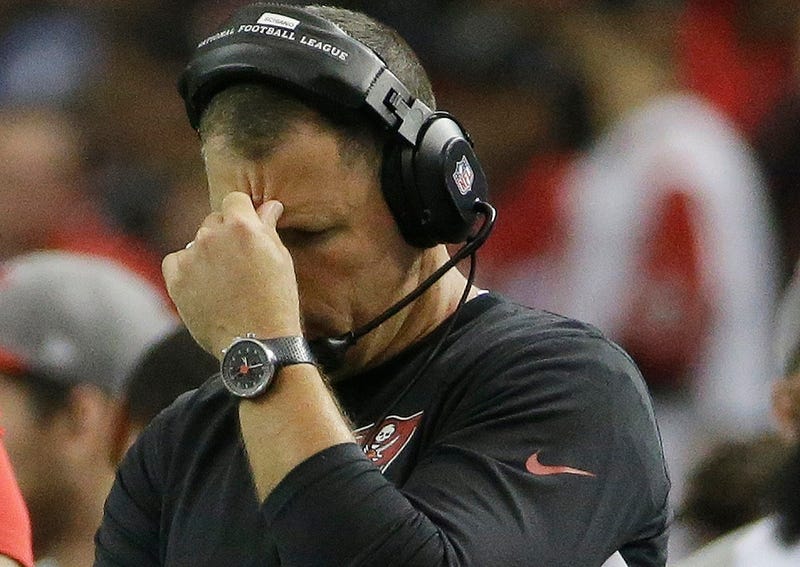 There's nothing quite like an NFL head coach getting fired. I don't mean that in the sense that it's good that someone just lost their job, but in the sense that wretched teams will be getting a much needed fresh start. One sportsbook is allowing you to bet on up to 14 of those firings to happen this offseason.
In Bovada's Football Player Props section, there are fourteen props asking if different NFL coaches will still be in charge of their respective teams on Week 1 of the 2014 season. The options range from absolute locks (Hi, Greg Schiano!) to patently ridiculous. A screenshot of the list, and accompanying betting odds is below (click to enlarge).
It's really clear that Schiano is going to be gone, and it's not looking good for Joe Philbin now that the only category his Dolphins are leading the NFL in is racism. But, at -300, you can take a guy like Ron Rivera to remain the coach of the Carolina Panthers.
The Panthers are 6-3, and one game out of first place in the NFC South. Barring an absolutely catastrophic meltdown, which isn't likely with that defense, you'd score some free money on that one. The same goes for Jim Schwartz to remain the coach of the Lions, given that his team is currently in first place. While I'm no fan of taking low-value lines like those, you'd be a fool to pass them up.
Mike Smith is a case that really sticks out to me. He's at +250 odds to get fired, but his team is playing worse than it has since before Michael Vick got there, Tony Gonzalez is going to retire, and his wide receivers' legs are made of uncooked Ramen noodles. Wouldn't this season be the perfect time to axe Smith, who has shown a history of struggling to manage late game situations?
Also, Dennis Allen is in just his second season in charge of the Raiders, and is at +150 odds to remain their head coach by the start of next year. He had to go through a quarterback competition, and his best option was Terrelle Pryor, which is the most depressing sentence I've ever written about anything in my life. Al Davis isn't even in charge of the Raiders anymore. Would they really get rid of him after two brutal years like that? Some decent value in that line, which I couldn't see resulting in a loss.
Obviously there is no such thing as a lock in sports betting, but some of these are as close as it gets. Now go forth with this new found knowledge and win yourself some money.