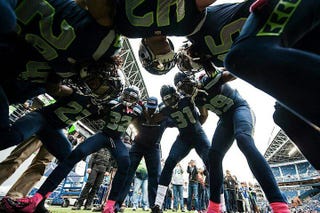 When looking to build a bankroll betting on NFL games, you'd be an idiot if you didn't try to give yourself an edge by using statistics to your advantage. But which stats are the most important for bettors to consider and where can you find them?
When I started writing this, Monday Night Countdown was on in the background. Trent Dilfer, in a criticism of the Seattle Seahawks' schedule this season, mentioned how poor the Total QBR of their opponents has been this year. Allow me to start this breakdown of stats for sharps by saying this: if you ever factor ESPN's Total QBR into your football betting decisions, I will find you and just take your money from you, because you're going to lose it all anyway. While we're on the subject here are some other statistics that you should avoid when betting football:
Wins: Whether it's straight up or against the spread, previous wins don't mean anything at all. Lines are set to level the playing field and, more often than not, the amount of money wagered on each side. If there are legitimate statistical advantages that are responsible for a disparity in wins, that's great, but don't bet based on wins. If Dilfer were a betting man, he'd probably bet based on wins and everyone would laugh at him while he lost all of his money that he would otherwise spend on personnel to apply makeup to his bald head.
Per-game yardage stats: Earlier this season, when teams were just pulverizing the Jacksonville Jaguars, they were leading by a lot of points in the second half. This led to a ton of running plays called during that time which, in turn, lowers the potential to boost both passing yards per game and total yards per game statistics by running the clock and not looking for big plays in the passing game.
Similarly, a team like the Houston Texans allows less than 200 yards per game passing, which has something to do with the fact that they are routinely behind at the end of games, affording teams the ability to keep the ball on the ground late. These numbers are easily distorted and unreliable for betting purposes.
Scoring averages: The Buttfumble resulted in seven points for the New England Patriots. That added .4375 points per game to New England's scoring average, and added the same amount to the Jets defensive scoring average, even though it was a stupid, lucky play that in no way was indicative of the Patriots ability to score, or the Jets ability to prevent scoring, and this exemplifies why this is such a flawed metric.
Turnovers: This is the least bad of the overrated statistics that will be covered in this space, because there is generally a practical application for it. It is, however, an overused metric. Turnovers and turnover margin are most effective when there is a massive disparity between the two teams playing, but still must be looked into further to account for the quality of opponents played and how many of a team's takeaways and turnovers were simply luck or the lack there of.
Kansas City has the best turnover margin in the NFL, but this was partially the product of a weak schedule early in the season. Despite a high number of takeaways and exemplary turnover margin, they are just 6-6 against the spread which, taking the vig into account, would result in a net loss.
Now that we've outlined what you shouldn't be looking at, the following stats are far more beneficial when looking to use numbers to your advantage.
Per-play yardage stats: Per-play yardage stats are not dependent on game situations in the way that per-game averages are and focus more on which teams are executing individual plays at the highest levels consistently. Sporting Charts provides per-play for overall offense, rushing offense, passing offense, and rushing defense, while yards per pass attempt can be found for each quarterback with a simple search of ESPN.com.
Of course, while way better than per-game stats, these are still not perfect. Averages can be skewed by one or two long yardage plays, garbage time plays, or other factors as simple as the weather. This is something you should always look out for when looking at these numbers.
DVOA: DVOA (Defense-adjusted Value Over Average) is a metric devised by the geniuses over at Football Outsiders, which measures teams to the league average in each situation. For a more detailed description, I highly encourage you to read their breakdown of it since, you know, they came up with it and stuff. Essentially, though, it's football's version of baseball's WAR or VORP, and generally compliments per-play averages quite well, while taking into account game situations. Again, go to Football Outsiders and use these to your advantage, because they're great.
Strength of victory: Is this a statistic that you should put a ton of stock into? Not really, but it is helpful in discerning whether or not a team's performance is as impressive as it looks. For example, Kansas City's strength of victory is a pathetic .380, denoting that they haven't beaten many teams with a decent number of wins. Not coincidentally, they failed to cover in both matchups with the 10-2 Broncos this season. Strength of schedule is also useful, but less so because bad teams will naturally have a higher strength of schedule since they're the ones losing games to the good teams. Either way, the schedule is really important.
Going back to Dilfer's analysis of the Saints and Seahawks, he would have sounded a lot less stupid if he had just pointed out that New Orleans had a higher strength of schedule and strength of victory this season, or he could have compared the DVOAs of the teams both squads have defeated this year.
Had Dilfer done that, he would have seen that the Saints have defeated just one team with a top ten offensive DVOA, the same number as the Seahawks heading into the game. At home, and with the number one defense according to DVOA rankings, and being second in yards against per play, this would have made it clear that Seattle had an advantage here. Instead, Dilfer decided to take another opportunity to sell ESPN's Total QBR, which brings me to my next point: nobody who wants to make money betting on football should go by anything an analyst says. Ever.
Using predominantly the statistics outlined above to analyze each game this week, something I hadn't been doing as proficiently when I started picking games, I managed a 10-5-1 record against the spread, good for 66.67%. If you can discern meaningful statistics from all of the noise, achieving consistent success betting on football is a formality.