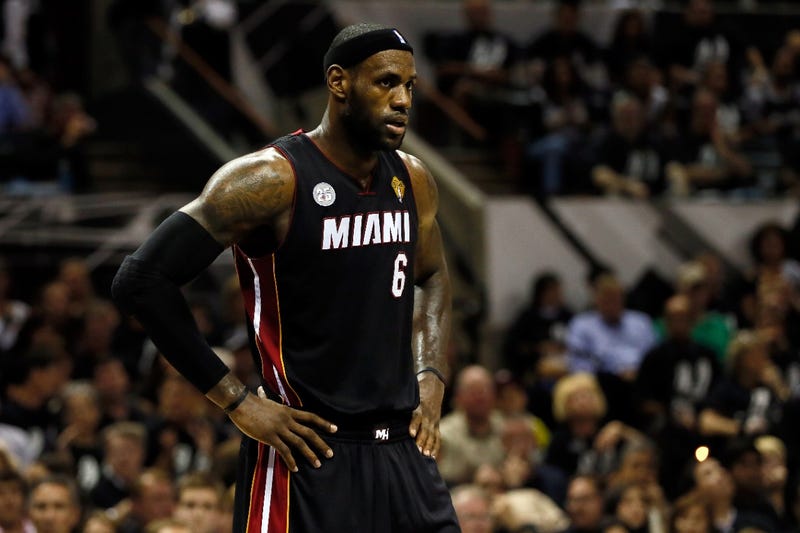 The last time LeBron James wasn't an NBA champion, we were two years younger. Our lives have probably changed drastically since then, as James' has since breaking his title drought. But the more things have changed, the more they stay the same, as he approaches the same situation he faced in 2010.
Parallels between this summer and 2010 run deep for LeBron, starting with the oft-unrealistic expectations of those watching him play. He was derided for failing to drag a Cavaliers team with a supporting cast of Anderson Varejao, Boobie Gibson, and Mo Williams to championships. This year, he is receiving similar flak for not being able to carry the likes of Rashard Lewis, the virtually non-existent Chris Bosh and Mario Chalmers, as well as the tattered remains of Dwyane Wade (RIP).
Of course, anybody who has ever watched basketball can tell you that LeBron James hasn't been the problem on his teams which have failed to cash in with championships. Coming into Miami's Game Five against the San Antonio Spurs, here are his career postseason numbers compared to Michael Jordan, numbers that compare very favorably, revisionist history be damned.
James: 157 Games, 6676 Minutes, .482 FG%, .333 3PT%, 1322 Rebounds, 1014 Assists
Jordan: 179 Games, 7474 Minutes, .487 FG%, .332 3PT%, 1152 Rebounds, 1022 Assists
With those numbers in mind, one would think that LeBron wouldn't be blamed for Miami's failure to secure a third consecutive championship. But alas, the Hot LeBron Takes have come fast and furious, and we are all back to living in 2010.
While a lot of the criticism of LeBron has been the direct product of the Bayless-ification of America, the notion of trolling to gain a hate-following, some of it is surely genuine. This sounds appalling until you remember that there are actual people behind the keyboards of ESPN.com comments and not just algorithm-based trollbots who pucker their robot anuses in such a way as to make the correct series of noises to make their computer's speech-to-text function say stupid things about basketball on the Internet.
Why does any of this LeBron criticism matter, you ask? Good question, person I locked in my laundry room and only provide nourishment to when you ask me a question to push along my articles, I'll explain.
In the summer of 2010 LeBron James left Cleveland, his hometown team, to have a chance to win championships. Whether or not the chance to escape the 24/7 cycle of criticism that had enveloped him in Cleveland played a role will never be known, but it certainly didn't make Miami look worse during his decision making process.
This summer, he will have an opportunity to do exactly what he did in 2010, with the chance to opt out of his contract with the Heat, and do any number of things to give himself a better chance to win championships.
LeBron can opt out, take a pay cut with Miami, and allow them to sign another star like Carmelo Anthony. He can go to the Lakers, Rockets, Bulls, Cavs, or any other NBA team who can make the salary cap math work. Or he can just stand pat for another year, which seems like the least likely of any scenario.
Also on the table, besides his place in basketball history, is a chance for LeBron to redeem himself for The Decision. What turned countless fans against him, an admittedly douchey spectacle for even the biggest LeBron stan (like me!), could fade further into the past if he replaced a televised special/fucking Deadmau5 concert introduction with a regular goddamn press conference.
For someone as image conscious as LeBron James, a guy who has his own app, and any other imaginable brand extension you could think of, these things have to matter to some extent, right?
For a player with all of the physical tools, basketball's version of a five tool player, isn't wasting a year of potential legacy building to protect Dwyane Wade's (again, RIP) feelings not only wasteful, but insulting to yourself and others?
Just like 2010, the rumors will be persistent, the criticism will be unending, and a change will be imminent. The only question is just what that change will be.