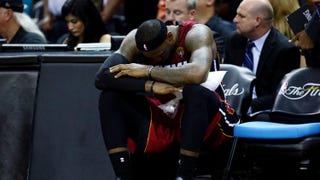 With sports writers all over the globe using their sources to spout trivial, made up sounding things about LeBron James as we await his free agency decision, I figured I'd get in on the act. Here's what my sources are saying about LeBron James heading into the weekend.
LeBron is going to Brazil for the World Cup Final, but don't be surprised if he has to avert his eyes for most of the game as Lionel Messi being forced to carry Argentina by himself gives him flashbacks to this year's NBA Finals.
LeBron is strongly considering Cleveland, but Dan Gilbert's past actions are an issue for him. I mean, look at how nerdy Gilbert allows his kid to look. My sources note that James is worried that his sons would bully that idiot nerd, and he doesn't want to raise any bullies.
LeBron's friendship with Drake and Johnny Manziel is a definite factor in his decision. My sources tell me that they're all trying to court AC Milan striker Mario Balotelli to join the MLS' Columbus Crew, in an attempt to get every athlete ever name checked in a Drake song to play in the state of Ohio.
LeBron, my sources say, is waiting for Chris Broussard to make a 100% determination one way or the other as to where he is going to play next year. That way, James can just pick the opposite of whatever that dumb bigot says.
LeBron, if my sources are to be believed, cancelled his flight to Akron because his ears pop really bad when on a descending airplane, so he only wanted to minimize the number of times he had to go through that this weekend.
I will continue to update this post when more information is passed to me by my sources.