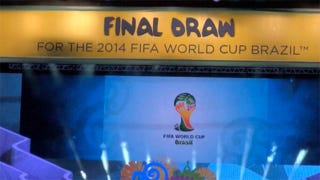 The World Cup draw is tomorrow, and that's one of the most exciting things in all of sports because of just how goddamn fantastic the World Cup is. And even though it is not a sporting event, that doesn't mean that sports betting sites aren't offering action on it. Bet365 has a comprehensive list of wagers on who will draw whom, but here are the best prop bets around for tomorrow's World Cup draw.
I've included screenshots of each prop on the left hand side of this post, which you can click to enlarge.
America Props - Bovada
Bovada has a great list of props related to the United States' World Cup draw, offering action on which group they will be drawn into, which Pot 1 team they will be drawn with, which continent the top seeded team in their group will be from, and a couple of props related to the cities in which the USMNT will play in during the World Cup.
These are literally just wild guesses, but placing a little action on the top seeded country that you most want to see the USA matched up with only provides incentive to pull harder for that outcome, so why not?
The Ultimate Pot 2 Prop - PaddyPower
The whole Pot 2/Pot 4 thing is pretty confusing, and just screams "FIFA wants to help out France as much as humanly possible like they always do," but it has spawned this Pot 2 prop from PaddyPower, asking which Pot 4 team will be moved there. While Bovada offered just 6/1 odds on their full pot props, PaddyPower is offering 7/1 on this, which is better!
Oh, England. The country that cares about its football more than most but with the least chance to win the World Cup. What kind of delicious proposition bets have sports books devised for you? Great ones. William Hill is asking if England will end up in the "Group of Death" along with Brazil, Mexico, and the Netherlands, which would be just their luck. Meanwhile, Betwin wants to know if Wayne Rooney will be the World Cup's leading goal scorer, and if Rooney will do so en route to an England World Cup win. Unfortunately, there isn't a NO option on the Rooney props. Even if the odds were 1/1000000, that'd still be a couple of free cents.
The Ultimate WTF Prop - Betwin
It'd be totally disappointing if there wasn't one prop that made you laugh hysterically. Fortunately, there totally is one of those, a prop asking if Newcastle United and Nigeria striker Shola Ameobi will be the World Cup's leading scorer, and if he'll lead the World Cup in scoring en route to a Nigeria World Cup win. You can't make this stuff up.