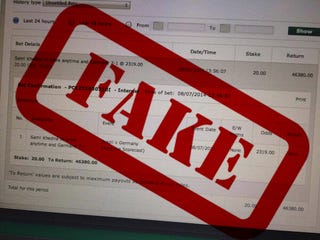 The best part of yesterday's destruction of Brazil by Germany, besides the advertising fails, was the betting. After all, it's not often you get to take a team to win by five and a half goals over Brazil. But there's one bet floating around the Internet this morning that is too fake to let continue floating around the Internet. Naturally, it's being perpetuated by Reddit.
Bet of his life, indeed! Or, it would be if it wasn't fake.
This is pretty easily recognizable as illegitimate for a couple of glaring reasons, reasons that people unfamiliar with betting (or just some who aren't familiar with this specific platform) wouldn't raise any red flags over.
The bet here, "placed" on Bet365, is listed as Sami Khedira to score anytime and for Germany to win 7-1 using the Anytime Scorecast market. The odds listed are in decimal format, and are listed at 2319.00. 2319.00 in decimal is equal to 2318/1 (your $1 stake is included in the decimal price), or +231800.
Now, theoretically, I should be able to reproduce a similar wager for today's Argentina/Netherlands match. While the odds wouldn't be exactly the same, betting on an unexpected player to score in their team's 7-1 win should yield a comparable payout.
For the purposes of this exercise, I took Netherlands' Terence Kongolo (who has played two minutes in the tournament) and Argentina's Jose Maria Basanta, two players who do not score goals for their countries, and tried to bet on them to score in a 7-1 win. But, wait a minute, betting on a game to end 7-1 isn't even an option using Bet365's Anytime Scorecast. Click the screenshots to enlarge them.
In fact, betting on a team to finish with seven goals isn't an option on Bet365's Correct Score market either.
"But it could have been an in-game wager," you say. Well, no. Neither Bet365 or Bovada offer an in-play Anytime Scorecast. But I respect your willingness to explore all of the options.
Let's not forget, this is a day after a very high profile match ended 7-1. If there was ever a time for sports books to add a seven goal option onto their betting selections, today would be that day.
And those odds of 2318/1? That's more than 800 units of currency per unit of currency wagered (the photo doesn't specify a currency) than was being offered for Honduras to win the World Cup before the tournament started. Even Kongolo to score in a 6-1 Holland win was just 1350/1, and he doesn't play.
Literally everything about this is illegitimate, because it isn't even possible to bet on that score, but it's probably made its way into your timeline like it did mine. Shame on you, Internet.