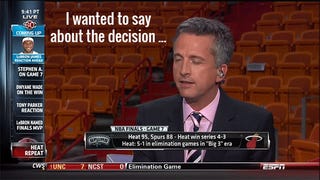 When we last left playoff suggestion box creator and Los Angeles Clippers season ticket holder Bill Simmons, he was telling us what a crapshoot the NFL playoffs are. What wisdom will he impart on us this week? Let's find out.
You learn new life lessons every week.
If I learned new life lessons every week, there's no way I'd still put myself through reading this.
I learned last weekend that, when your young son becomes a huge wrestling fan, you shouldn't ask him, "Hey, did you ever hear Billy Gunn's entrance song when he wrestled as 'Mr. Ass'?"
It took you this long to learn that? Aren't you, like, in your forties?
Now we have a 6-year-old kid stomping around my house yelling "I'M AN ASS MAN!" and belting out lyrics like, "So many asses, so little time … only a tight one can stop me on a dime." He's definitely getting kicked out of school soon. Do you even need schooling when you're an Ass Man? I guess we'll find out.
My parents used to watch Seinfeld at dinner time when I was a kid. I hated the show, but I'm pretty sure it taught me that you needed schooling to become an Ass Man. I don't think that the proctology field would let you in without it, in fact.
We learned 10 lessons from these four games, some of which can even be used for wagering purposes. In no particular order …

Lesson No. 1: Colin Kaepernick is a man's man.

Like everyone else with an IQ over 70, I watched that Niners-Packers game wondering,Why in God's name would Kaepernick NOT wear sleeves in zero-degree weather?
There were lots of dudes not wearing sleeves in that game, right? Unless they were wearing sleeves that looked like bare arms, which is highly unlikely, I definitely spotted some non-sleeved arms from lots of other players.
But after seeing Kaep generate some monster plays down the stretch, avoid a double amputation and officially apply for "Packer Killer" status, I came to appreciate the no-sleeves idea. How could any Niners teammate let the windchill affect him when his lunatic QB wasn't wearing sleeves???
I'm not a doctor, or an Ass Man, but I think the cold affects people by narrowing the blood vessels and decreasing blood circulation around the body so as to expend less energy. They did a Sports Science on this and everything where John Brenkus stripped down and sat in a walk in cooler or something, dude.
What makes him stand out other than the no-sleeves move? No QB vacillates between "Holy shit, that was amazing!" and "Oh god no, that's getting picked!" quite like Kaep.
Doesn't that just make him inconsistent and kind of bad? As someone who has watched Eli Manning play football for many years, the answer is undoubtedly yes.
Lesson No. 2: Don Denkinger single-handedly prevented Kansas City from hijacking the "God Hates Cleveland" joke.
Timely.
Lesson No. 3: If I ever write another Playoff Gambling Manifesto, "Don't Bet On Cleveland, Buffalo, Minnesota Or Kansas City For Any Reason" definitely has to be included.

I mean … why did that realization take THIS long?
Well there are two options here: you're an idiot or this is stupid and made up, also making you an idiot. Take your pick!
Lesson No. 4: If I ever write another Playoff Gambling Manifesto, I need to convert last week's Suggestion No. 6, "Before You Pick A Team, Just Make Sure Marty Schottenheimer, Herm Edwards, Wade Phillips, Norv Turner, Andy Reid, Anyone Named Mike, Anyone Described As Andy Reid's Pupil And Anyone With The Last Name Mora Isn't Coaching Them," into an actual rule.

And Reid's name might have to be converted to 18-point font.
Solid fat joke right there.
And as their world collapsed over that last hour, Andy stood there staring down at some mysterious sheet of paper like he was trying to read a takeout menu.
Second solid fat joke right there.
Lesson No. 5: There's a chance that "Don't Bet Against Andrew Luck" could end up in Playoff Gambling Manifesto 5.0 soon.
In the amount of words we've wasted here, Simmons could have just penned a new gambling manifesto and shut the hell up about it. Apparently they don't teach efficiency at Holy Cross.
You know what I loved about Luck's performance last Saturday? He didn't play well for two solid hours, only it never felt like his confidence wavered. He always seemed like HE thought they were coming back.
Well, yeah, you just said that they were playing against an Andy Reid coached team. Sanchez probably would have been able to pull that comeback off against his fat, takeout menu reading ass, right?
On a personal note, my single favorite thing about watching football over the past four decades — well, other than rooting for the Patriots, gambling, Madden & Summerall, and gambling on Patriots games that were announced by Madden & Summerall — has probably been watching certain QBs "own the room."
Yeah, great feats of athleticism bore me too, so I'm all about these things.
Anyway, Luck made two insane plays that made Pats Fan Bill say to himself, "Let's hope Kansas City wins because I'd love to avoid Andrew the Giant in Round 2."
For those of you scoring at home, we've had Bill Simmons refer to himself as Pats Fan Bill, Billy Zima, and Dr. Simbeau over the last three weeks. This is a middle aged man we're talking about.
Lesson No. 6: Lone Survivor is the most extraordinary war movie since Saving Private Ryan.
Oh, for fuck's sake. Listen, mixing sports and movies and goofy TV shows was fun a long time ago when there weren't well put together sites that specialized in each category who write about all three things better than Bill Simmons does. His failure to realize that and adapt by at the very least separating these things into their own columns makes me so sad.
Lesson No. 7: When you're picking games on Friday morning, make sure you're factoring in the late-week possibility of a "Nobody Believes In Us" team emerging.
In today's instant reaction filled world, what with social media and 24 hour dedicated networks to literally everything, that type of information can be figured out by Sunday night. This is another sign of Billy Jeremiah Weed's age.
The big question: Since the Saints pulled off a road win in cold weather, can you still say nobody believes in them?
Yes. They are underdogs by more than a touchdown against a team who beat them by multiple touchdowns earlier this season.
Lesson No. 8: Picking Round 1 games might be as simple as (a) making sure one team's strength of schedule wasn't significantly harder than the other team's strength of schedule, and (b) just grabbing any home dog.
These are actually pretty good lessons in picking just about any NFL game, as teams that fall into either of those categories tend to have more success than their counterparts. Just seems kind of obvious.
Lesson No. 9: Anytime a playoff team is laying more than a touchdown when (a) it hasn't won a playoff game in 23 years,(b) its QB generated just 23 points in his previous two playoff games (both losses) and just had a four-interception game, and (c) its coach could tie Jim Mora's record for "Most consecutive seasons with the same team without ever winning a playoff game," it's probably the right idea to grab the points.

And it was! Thank you, Cincinnati! You saved me from a winless weekend.
Yeah, I can't argue this. The Bengals suck.
As much as I want to do it, I'm fighting off the urge to add "Don't bet on a ginger QB for any reason, but especially if he's laying points" to the Playoff Gambling Manifesto.
This is the first good idea you've had in years, and you're resisting it. Typical Simmons.
LESSON No. 10: In the Concussion Awareness era, every playoff game is now a Michael Conrad Memorial "Let's Be Careful Out There" Game.
I don't know who Michael Conrad is, because I'm not old like Bill Simmons. He put an explanation right below this point, but I always just skip the pop culture stuff. Whoops.
A quick recap: Jamaal Charles gets dinged on Kansas City's first drive, lands face-down and doesn't move for an extra few seconds. Injury timeout. Every Chiefs fan immediately thinks, Oh God … I hope he doesn't have a concussion … please God … as we head into commercial. When we come back, NBC shows the replay — turns out one of the Colts inadvertently clipped Charles in the head. Now we see Charles sitting on the bench as Kansas City's medical staff examines him. He has the semi–Troy Aikman Face going. Everyone watching knows right there that the league's best runner isn't coming back. A few minutes later, they show him heading for the locker room and that's that.
This is good!
Now — think of how different that sequence was compared to the old days. First, any Old Football playoff player who got his bell rung would have returned to the game unless he got knocked out. And even then, he might have returned and wobbled around for a few downs. In New Football, you're wiped out instantaneously — it's like the light getting turned off next to every injured player's number in Rollerball (the 1975 version, not the indefensible 2002 remake). Second, the fan reaction to those moments has been irrevocably altered. Whenever anyone was injured in an Old Football playoff game, you thought to yourself, As long as we don't see that guy sitting on the cart, he might come back. With New Football, you know he's not coming back. Almost instantly.
This was bad!
And third, unexpected feelings of guilt pop up from both ends — for the opposing fans (trying not to anger the Karma Gods by celebrating that Jamaal Charles can't play anymore because, you know, his head just got effed up) and the player's fans (who fight off the urge to say, "Come on, Jamaal, you're fine, shake it off!" when they know it's probably worse than that). As my Chiefs buddy Connor texted me after Charles's injury, "I am the most pro-concussion-safety football fan in the world. Until our star running back gets his bell rung in the playoffs."
I don't know, it's probably something about former players shooting themselves or others then themselves that has us all a little uneasy, kind of like that scene in Shawshank Redemption where the warden shoots himself, amirite!?!?
Anyway, Billy Mike's Hard Lemonade went with the Saints, Niners, Patriots, and Broncos, laying more than a touchdown twice. Whatevs, only two more weeks of this nonsense.