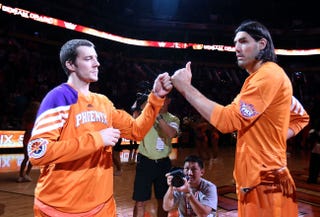 On Saturday, I spotlighted the Wisconsin Badgers football team and their perfect season against the spread thus far. If I gave you a million guesses (and by a million, I mean thirty), you wouldn't be able to figure out the lone undefeated team ATS in the NBA.
From VegasInsider's NBA rankings, the Phoenix Suns are 6-0-1 against the spread to this point in the season, the only team yet to sustain a loss against the number in the association. In fact, they're the only team without two ATS losses in the early stages of the season.
This is, of course, a product of the Suns' unexpected hot start. Phoenix was supposed to be one of a few teams tanking in an attempt to win the first pick in the NBA Draft or, as his birth certificate suggests we call him, Andrew Wiggins. However, the Suns have come out hot (horrible weather pun not intended), winning five of their first seven games straight up. If the season were to end today, the Suns would be the four seed in the Western Conference.
On the flip side of things, the Chicago Bulls are 1-4 against the spread, while the Heat are 2-5, and the Knicks, Nets, and Thunder are all 2-4. This means nothing as far as NBA championship implications are concerned, but it will be interesting to see how long it takes bettors to adjust and force bookies to give the Suns fewer points in the future.