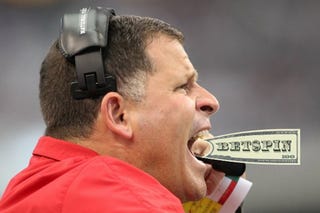 It has become quite clear that the NFL is toying with all of us. Every week, on Thursday Night Football, they have said to us the equivalent of, "we know that you're going to watch our product regardless of how bad the teams on your television are, so enjoy Browns/Bills without NFL RedZone to ease the pain!" Games like Carolina at Tampa Bay should never be wagered on.
However, if you must live on the edge, feel free to consult this handy betting guide that even the toughest, grittiest Schiano Man would approve of, right before eating a bowl of nails for breakfast (without milk, of course).
Point Spread: Carolina -6
Over/Under: 40.5
As we were reminded of on Monday, betting on bad offenses to produce enough points to hit the over is usually a horrible idea. Then again, so is betting on a bad offense to cover the spread, and I did that too.
/Watches Josh Freeman overthrow beer pong ball out of frat house window
The moral of the story is, betting on totals when bad teams are involved is an even worse idea than betting them against the spread. This is due to the elementary fact that bad teams are bad because they lack talent or consistency, and often both. The Buccaneers fall into the both category.
Tampa is ranked 31st in offensive DVOA by Football Outsiders, while Carolina is ranked 14th. However, Carolina's ranking has been aided by a weak schedule in which their three wins have come against teams with a combined five victories to this point in the season. In those three wins, they have averaged roughly 34 points per game.
The Bucs' inconsistency is toxic to totals betting but, if I have to choose one or the other (and I do in this column), I'm taking the under. Mike Glennon is going to have trouble scoring with Doug Martin out of this one, which will put the onus on Tampa Bay's defense to keep the team in the game against an overrated Panthers offense.
Over/Under Pick: UNDER 40.5
As for the game itself, these two teams aren't vastly different statistically. Both are towards the bottom of the league in total offense, and both are in the top half of the league in total defense. Carolina is slightly better in both categories, but Tampa Bay's opponents have played .550 ball this year while the Panthers' opponents are at a .415 clip, requiring the numbers to be taken in context. The last time that Carolina played against a team that isn't an abomination, they lost 22-6 at Arizona.
By the way, winless teams from Week Six and beyond have a 64% success rate against the spread, as tweeted by R.J. Bell, a near two thirds rate of success.
At the end of the day, I think that the Bucs aren't as bad as they've looked and that the Panthers aren't as good as they've looked.
Spread Pick: Buccaneers +6
Betspin Over/Under Record: 0-1
Betspin ATS Record: 0-1