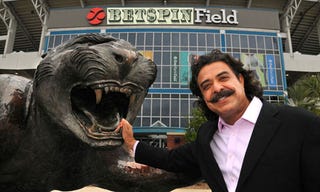 So, you're want to bet on the NFL in Week 8, but you need some help making your picks. Well, Simmons and Cowherd have been atrocious, and Norm MacDonald doesn't pick enough games, so it looks like you're stuck with me.
/Locks doors, draws shades
Each week, I'll run through each game and pick against the spreads, to deliver you the tools to win some ungodly sum of money. No totals for Sunday's games, though. Totals are only to be bet when there is nothing else to watch, and even then it's a horrible idea. Onto this week's picks. Point spreads are from the LVH, via VegasInsider. Betting trends from SportsInsights and Regressing. Home teams are in CAPS.
BUCCANEERS (+6) over Panthers
As soon as the Schiano Men gave up a touchdown on the Panthers' first two drives, I realized what an idiot I was for picking a team that actively hates its coach to do anything right. That was my bad.
JAGUARS (+16.5) over 49ers (in London)
Jim Harbaugh is 4-0 as a head coach in 1:00 p.m. games in which he has traveled from the west coast to the east coast. HOWEVER, he has yet to experience a game where's gone from the west coast to the west coast of Europe! That's a seven hour difference from the Pacific Time Zone. The only two times a London game has finished in a margin of victory big enough to cover this spread, the New England Patriots were involved. Besides, there is zero chance that Shad Khan will be embarrassed in the land of his more successful sports team, Fulham FC.
Cowboys (+3.5) over LIONS
The Cowboys are an unreal 6-1 against the spread this year, and are getting more than a field goal here. Neither of these teams play any defense, but the Lions are 1-8 against the spread in games where the over/under is set at 49.5 or more. It is at 51 for this game, and I can't see Detroit denying Romo and the Cowboys of at least 27 points, especially with DeMarco Murray listed as probable.
EAGLES (-5.5) over Giants
The majority of bettors are on the Giants, despite the fact that they haven't won a game against a team whose quarterback wasn't still learning the offense/recovering from MRSA/looking over his shoulder for Schiano Men. The only team worse at running the football than the Giants this season is Jacksonville.
CHIEFS (-7.5) over Browns
Surprisingly, the Browns are seventh in the league in yards allowed per game, just two spots behind Kansas City. The Chiefs, though, are allowing 11 fewer points per game and are allowing just above 11 a game. I don't care how weak their schedule has been, Jason Campbell isn't going to do much better than that.
On a side note, only in pro sports would a guy like Jason Campbell still have a job while a way more talented guy like Vince Young does not. St. Louis Cardinals fans probably thank God for that while praying before bed every night.
SAINTS (-11) over Bills
New Orleans is another unexpectedly good defense. They're fourth in the league in scoring defense (17.2 ppg) and ninth in passing yards against per game (224 ypg). The Saints are also 16-4 against the spread in home games over the last three seasons. Also, you'd feel like a real turd if the Bills were down 14-0 early on and you were watching your TV and trying to convince yourself that Thad Lewis is totally going to get you back into the game.
PATRIOTS (-6.5) over Dolphins
The Patriots are 29-5 following a loss since 2003. Miami, on the other hand, has lost three straight, including their last game against the Buffalo Bills and the incomparable Thad Lewis. New England, by the way, is fifth in the league in scoring defense despite only playing one truly bad team (Tampa Bay). This may be the best pick of the weekend.
Jets (+6.5) over BENGALS
This line opened at Bengals -7 and, with the majority of bettors on the Bengals, the drop to Bengals -6.5 is an indicator that the big money, or "sharps," are on the Jets. Geno and the Jets are 5-2 against the spread this year, and are the second best run defense in the league (77.7 ypg). This game will be decided in the late stages, and the Jets will cover.
Steelers (-2.5) over RAIDERS
This game is another case where the big money is on the Raiders, which has moved the line towards them despite an overwhelming majority of bettors playing the Steelers. This time, though, I disagree with the sharps. Pittsburgh's defense has allowed 11 points per game following their bye week and seem like an entirely different team. Giving less than a field goal with them feels safe.
Washington (+11.5) over BRONCOS
Denver is only 3-3-1 against the spread this season, despite being the best team in the league. This is because they are horrific at stopping teams from scoring points (their 28.1 points allowed per game is 27th in the NFL). Washington's defense is just as bad, but Denver will let them score enough to cover here.
Falcons (+2.5) over CARDINALS
70% of bettors are on Atlanta in this one, but the line has moved up to Arizona -3 in some places. I disagree with the big money again on this one. Both of these teams rush for less than 80 yards per game and, in a game that is going to be decided by throwing the football, I'll take Matt Ryan over Carson Palmer every time, and moreso when I am getting points to do so.
Packers (-9) over VIKINGS
I mean, did you SEE the Vikings last week? This week they are forced to start the guy they brought in Josh Freeman to replace. This requires no explanation.
Seahawks (-11) over RAMS
The Seahawks are in the top five in both points scored and points allowed this season. Also working in their favor: they didn't reach out to Brett Favre about playing for them this week.
Betspin ATS Record: 0-2
This Week: 0-1