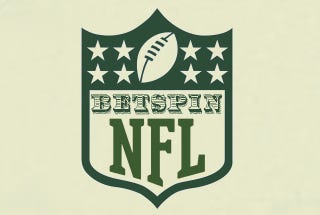 Last week was better than the week before, if not just slightly. STILL! PROGRESS! This week, I've already got a win under my belt. Here come the Week 10 picks.
Each week, I'll run through each game and pick against the spreads, to deliver you the tools to win some ungodly sum of money. No totals for Sunday's games, though. Totals are only to be bet when there is nothing else to watch, and even then it's a horrible idea. Onto this week's picks. Point spreads are from the LVH, via VegasInsider. Betting trends from SportsInsights and Regressing. Home teams are in CAPS.
Jaguars +13 over TITANS
Yes, the Jaguars are bad. But 13 points worse than the Titans? Tennessee has only won one game by this many points all sesason, and that came on Geno Smith's worst day as a football player ever. The Titans will win, but not by 13, especially with Indianapolis next on their schedule.
Eagles +1 over PACKERS
Thanks to Aaron Rodgers' broken collarbone, Nick Foles is far and away the best quarterback playing in this game. He obviously won't throw seven touchdowns again, but he will throw more than Seneca Wallace. This line opened at Green Bay -10, which means that Rodgers was worth nine points to the spread. There is a reason for that, and that reason is that the rest of the Packers really aren't that great.
Bills +3 over STEELERS
Buffalo is ranked 7th in DVOA on defense, while the Steelers are ranked 28th in that category. Translation: the Bills' defense is underrated, while the Steelers' is overrated. Also, we have reached a stage in NFL history where EJ Manuel in his first game back from injury is more valuable than Ben Roethlisberger when healthy. Feels weird, man.
Raiders +7 over GIANTS
Apparently this week is "overvalue every home favorite" week in the NFL. The Giants whupped two bad teams before the bye, now they're all of a sudden touchdown favorites? Via RJ Bell, the Giants are just the third 2-6 team in the last 25 years to be favorited by a touchdown or more. Given their struggles with mobile quarterbacks that can also throw the ball, I don't see them covering.
COLTS -9.5 over Rams
Fine, I'll bite on a home favorite finally. The Colts are ranked 4th in DVOA offensively and, despite losing Reggie Wayne, have scored 27 points or more in five of their last six games. They will make quick work of the Rams, even though the Rams have looked better than expected since losing Sam Bradford.
Seahawks -4 over FALCONS
Around 65% of bettors are on the Seahawks, yet this line has dropped from Seattle -6 to Seattle -4. While this is a sign that the big money is on Atlanta, I don't see why. Atlanta is ranked 28th in defensive DVOA and, without Julio Jones and a fully functional Roddy White, the Seahawks' secondary shouldn't have too much trouble with them. I say this fully aware of the fact that Mike goddamn Glennon took Seattle to overtime last week, and I fully expect to regret this pick.
Bengals -1 over RAVENS
The Bengals are better than the Ravens both offensively and defensively, and have had an extra three days to prepare for this key division game. The only reason the spread is this close is the fact that Cincy is missing Geno Atkins, and a few more key players. They won't need them against a team that just lost to Jason Campbell.
Detroit PK over CHICAGO
These two teams are averaging 381.0 and 381.1 yards per game, respectively, which is kind of neat. The last time these teams played was Week 4, the week before Calvin Johnson sat out a game, because he was really hurt at the time. The Lions still dropped forty on the Bears that day.
49ERS -6 over Panthers
75% of bettors are on the Niners, yet the line has stayed at six points at the LVH. You know what that means: big money is on the Panthers, and Vegas is begging you to take the Niners. I'll take the bait. Also, this:
CARDINALS -3 over Texans
Case Keenum actually looks okay after a couple of starts, but the Cardinals are first (!) in defensive DVOA this season. Patrick Peterson and Honey Badger and those other nine guys are going to make it a rough day for him. Also, with Arian Foster out, this is the week that we see first hand that Andre Ellington is better than Ben Tate.
Denver -7 over SAN DIEGO
Again, from RJ Bell, road favorites off of a bye are 47-14 in the last 13 years. That number doesn't take into account the fact that Peyton Manning is leading this road favorite coming off of a bye. San Diego is literally last in the league in defensive DVOA, which will be an issue.
SAINTS -6 over Cowboys
The Saints have covered in 13 straight home games with Sean Payton as their coach. Something tells me that Tony Romo's derpy ass isn't going to be the one to stop that streak.
Miami -2 over TAMPA BAY
For some reason, the LVH only has this line set at two points, instead of the 2,000 where it belongs. Maybe this is because the Bucs hung with Seattle last week? You're not fooling me, Schiano.
This Week: 1-0
Betspin ATS All Time: 10-19