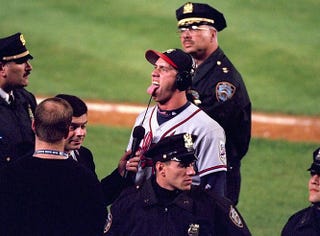 There's no way this is real, right? An unverified Twitter account claiming to be former Atlanta Braves pitcher/New York City subway rider/English language enthusiast declared this week "slap a liberal for good luck week," then got into it with some of those who responded to him. Shockingly, he was not very diplomatic.
Goodness, it seems that Mr. Rocker is pretty passionate about his hatred for those damn liberals (which, for what it's worth, I'm not even one! I don't even care about politics in the slightest, which is what made this even better for me). Regardless, I couldn't let John Rocker get away with such a sick burn on me. I had to act, so I did.
THAT'LL TEACH YOU TO MESS WITH ME, JOHN ROCKER.
Seriously, though, I have no idea if this is the real John Rocker, but I really hope that it is. Actually, I hope that this is just some sick parody account, because the thought of a guy who was good at baseball for about a year, only because he was doing steroids, living out the rest of his miserable life reacting to trolls on Twitter instead of, I don't know, doing better stuff, makes me sad.
Either way, God bless the Internet.
UPDATE 4:44 P.M.: THE PLOT THICKENS.