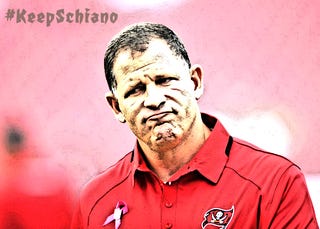 The Glazers are some diabolical people, even as far as owners of sports teams go. While, as an enthusiast of Manchester City Football Club, it has been an absolute delight to watch them turn Manchester United into a mid-table club this year, it's pretty hard to ignore their track record of ruining professional sports franchises.
Between United and the Tampa Bay Buccaneers, it's hard to tell who has been worse by each team's standards this season. One thing is for certain, though: both Bucs coach Greg Schiano and United manager David Moyes have not done the best job this year. And while no sports books have odds on which will be fired first, they all should. Instead, I'll set a line for them.
Tampa Bay has already made it clear that they will not make a move on Schiano until the end of the season, at which point he will probably be fired. However, since the Fire Schiano firestorm back in October and early November, the Bucs have been better! They've won three out of four games and, despite being 3-9, may deserve a pass because of a goddamn ridiculous .590 (!!!) strength of schedule. Seriously, look at their losses this season!
New York Jets (okay, that's not a good one)
New Orleans Saints (9-3, NFC South co-leader)
New England Patriots (9-3, AFC East leader)
Arizona Cardinals (7-5, 3rd place NFC West)
Philadelphia Eagles (7-5, NFC East co-leader)
Atlanta Falcons (also not a great loss)
Carolina Panthers (9-3, NFC South co-leader)
Seattle Seahawks (11-1, NFC West leader, best record in NFL)
Carolina Panthers (9-3, NFC South co-leader)
So, to recap, only three of the Bucs' losses have come against teams that aren't at least tied for their division lead, and only two have come against teams with a losing record, both of which were on the road. While this was happening, Schiano had to get rid of a quarterback that didn't want to play for him and endure the growing pains of a new one. Maybe it's not crazy to think that the Bucs will keep Schiano past this season in light of these things.
Meanwhile, David Moyes has simply failed to live up to expectations at Old Trafford. I just watched them lose at home to Newcastle United for the first time since 1972. Robin van Persie was behind the midfield line retrieving passes from the back line so he could send long balls downfield to strikers. It was just weird, man.
While there are still 24 matches left for United to play in the Premier League, it's also not out of the realm of possibility to think that he will be canned quickly to avoid the possibility of the team missing the Champions League this season which, being at least five points back of the top four after this round of matches, is definitely a possibility. However, since he was personally chosen by Sir Alex Ferguson, he may never be fired either.
When setting this line, it'd be important to consider the betting public's reaction to each of these guys. Many American bettors would see Schiano's name and immediately assume that he was the correct choice, which would result in a decrease in the payout for selecting him, which would work in conjunction with the fact that his season will end sooner than Moyes'.
At the end of the day, people will probably flock to Schiano in this case, even though he really shouldn't be fired. This would make him a tentative favorite. Here's how I'd set the line:
Which Glazer Owned Team Will Fire Their Coach First?
Greg Schiano (Tampa Bay Buccaneers): -150
David Moyes (Manchester United): +110