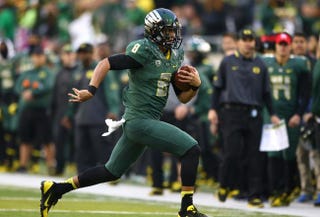 In the NFL, it's usually a horrific idea to bet on huge favorites against the spread. College football isn't as black and white, with the discrepancies between the Alabamas and non-Alabamas of the world allowing for teams to cover massive spreads with more regularity. How did teams perform this week against huge numbers?
First, I'll define a huge number for the purposes of this exercise. I took every game with a spread of 17 or more (spreads from the LVH) from this week's games and used SportsInsights' betting trends to determine the percentage of bettors that bet on that big spread being covered. The results were decidedly mixed this week.
Of the 17 games that had a spread of 17 or more points, 11 of them were covered by the favorite. The largest spread covered by a massive favorite was Ole Miss' over of 41.5 against hapless Idaho. Of the covers, 8 of them were between 19 and 28 points.
As for the big favorites that failed to cover their respective spreads, the largest spread that went uncovered was 46.5, as LSU couldn't run up the score high enough against FCS squad Furman. Four out of the six 17+ point spreads that were not covered by the favorite fell between 17 and 28 points.
Perhaps more interesting than the actual results of the games against the spreads is the percentage of bettors that are confident in college football teams to cover these big lines. The lowest percentage of bets on one of these favorites was the 54% placed on Texas A&M to cover an 18 point spread against Vanderbilt, a percentage that more than likely would have been higher were Johnny Manziel fully healthy.
Eight of the 17 games with spreads of 17 points or more saw greater than 70% of bettors wager on the favorite to cover, including a whopping 84% on Baylor to outscore Kansas by more than 35 points, which they did. Three of such games featuring 70% on the heavy favorite were not covered, with LSU's failure to cover burning 65% of bettors.
Is there a number that will scare off the majority of bettors? This week, there was not and, for the most part, it paid off for bettors. I'll keep an eye on this trend each week and see if we can find the illusive spread that people won't flock to.