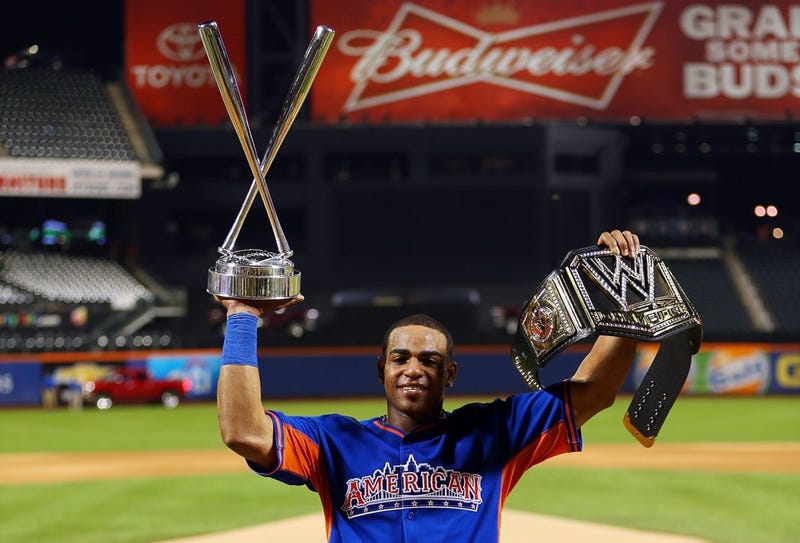 The Home Run Derby is an annual exhibition in which really athletic dudes hit lots of baseballs really far. But you already knew that. It's also one of the best known reasons on the planet to get really, really inebriated on a Monday night.
This year, I took suggestions on Twitter looking for rules. That went poorly.
Dammit.
Anyway, as in years past, this drinking game will combine classic Home Run Derby elements (annoying Bermanisms, anyone!?), a few plays on this year's participants, and some host city/stadium specific rules. Unfortunately, Minnesota and Target Field are kind of bland as shit, so we'll be digging deep for those last ones.
Now, perhaps the most important rule of this game must be followed before the start of the Derby. Everyone must pick one player out of a hat before the competition starts. Every time that randomly selected player is responsible for triggering a rule, you must drink double for as long as they are in the contest.
So, with that bit of housekeeping out of the way, let's get right to business. Here are the rules for the often imitated, never duplicated, Official 2014 Home Run Derby Drinking Game. If you feel a rule should be added, leave it in the comments section.
Take One Drink For
Every home run hit during the Derby
Every time Derek Jeter is shown on camera
Terrible Berman pun
Take Two Drinks For
Every gold ball (flex ball?) home run in the Derby
Any time a kid in the outfield catches a fly ball
Any camera shot of a professional athlete from a Minnesota team not participating in the Home Run Derby
Jose Bautista's Twitter account is mentioned
Mentions of this being Derek Jeter's final All-Star Game/season
Hot Yasiel Puig take!
Every standing ovation for Justin Morneau
Take Three Drinks For
Every time Berman says a ball was hit to a location other than Target Field
All fly balls that hit the outfield wall
Any mention of a player potentially ruining his swing for the second half of the season
Every time David Ortiz does that dumb fucking thing where he brings a towel and Gatorade to the person batting, because God forbid someone not pay attention to David Ortiz for four consecutive minutes
A player you don't recognize is at bat
Home runs that end up in the flower beds at Target Field
Every mispronunciation of Giancarlo Stanton's name
Finish Your Drink For
Any camera shot of Target Field's new beer ATMs
Highlight reel footage of the big, goofy home run light up statue in Miami
Troy Tulowitzki is sporting a mullet
Every swing and miss
500 foot home runs
Any round where a player hits zero home runs (the Robinson Cano Rule)
Johnny Manziel sighting
Take Two Shots For