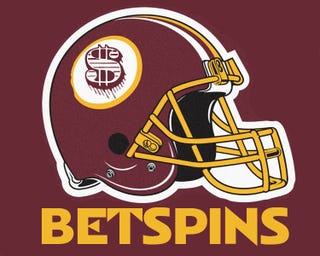 Unless you enjoy intentionally putting yourself through intense mental trauma, you are not going to wager any money on tonight's game between the Redskins and Vikings. But, in case you are, here's a handy guide for you to make the most informed decision possible.
Point Spread: Washington -1
Over/Under: 49.5

It's worth noting, by the way, that the Vikings are playing their third nationally televised night game in four weeks. They are currently 1-7. Nailed it, Goodell. Nailed it.
These two teams are bad. That means one of them will be less bad tonight, which will look odd since both of them have both been consistently worse than their opponents this year. That is normally a telltale sign that you should not wager money on either of them. But, alas, we all have an addiction here. Let's press on.
Both teams are allowing 31.5 points per game, and both are allowing between 395 and 400 yards per game. These are not desirable characteristics. Washington, however, is gaining an average of ninety more yards per game and have scored two more points per contest through half a season.
While 77% of bettors have jumped on Washington, the line has moved from Washington -2.5 to Washington -1, a sign that bigger bets are on the Vikings. This is normally a pretty clear indicator that the value rests with the home team.
Also, this may sound weird, but the Vikings haven't been THAT bad over the last couple of weeks. They traded punches magnificently with the Cowboys in Dallas last week, and put up 31 points against the Packers the week before. While both of those games resulted in losses, it hasn't been as bad as the team's 1-7 record has looked since they switched back to Christian Ponder at quarterback.
Washington, meanwhile, has lost all but one road game this year by 15 points or more. Their one win on the road came against Oakland, who just let Nick Goddamn Foles throw for seven touchdowns in three quarters against them. In other words, Washington is an abysmal road team. The Vikings are the pick here.
ATS Pick: Minnesota +1

As for the over/under, both of these defenses are horrific. Washington has allowed 31 points or more in three of their last four games, while the Vikings have allowed fewer than 27 points just once this season. Take the over here.
Over/Under: OVER 49.5
Betspin ATS All-Time: 9-19