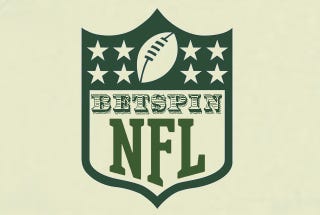 Last week was a good week, having gone 10-6 against the spread. Can we keep that momentum? Probably not, but let's find out with this week's picks.
Also, you'll notice that there was no Simmons column this week, because ain't nobody got time to pick through a column about parenting and also a mailbag disguised as a pick column. Maybe next week it'll be back, if he drops a regular picks column. Maybe not. Who knows.
As always, spreads are from the Westgate Superbook (formerly known as the LVH) via VegasInsider, and bet trends mentioned are fromSportsInsights. Home teams are mentioned in CAPS.
BILLS -2 over Chargers
This game opened as a pick 'em, and has moved multiple points despite two thirds of bettors being on the Chargers. Many of that majority likes San Diego after their big win over Seattle last week, but smart people like the Bills in this spot. The crowd in Buffalo is going to be nuts again, because still having a team is exciting or something.
By the way, only Cleveland is allowing more yards per play than the Chargers, while the Bills are eighth in offensive yards per play. The Chargers defense has been terrible, but the Bills are legitimately competent now.
Cowboys -1 over RAMS
Many are talking about the Cowboys as if they're the worst team in the league. They haven't been especially bad in any major statistical category, and are ranked ahead of St. Louis in literally everything despite playing two objectively better teams in San Francisco and Tennessee.
Dallas is mediocre, whereas the Rams are bad. After Thursday night's destruction of Tampa Bay (a game I so brilliantly predicted the Bucs would cover), St. Louis' first win of the season doesn't look so impressive.
Racists +6 over EAGLES
Did you know that Washington has the best defense in the NFL by Football Outsiders' metrics? Because that seems pretty important.
Texans PK over GIANTS
The Giants are gaining fewer yards per play than any team other than the Jacksonville Jaguars. The Giants continue to be the source of all sadness in my life. But that should be easily fixed against the Texans defense.
Vikings +10.5 over SAINTS
You know what a fun thing to do is? It's fun to take more than ten points against a Saints team that is 30th in yards against per play and 18th in passing yards per attempt, despite them being a passing team. That is very fun.
BENGALS -7 over Titans
Cincinnati is tops in the league through two games in passing yards per attempt, averaging 9.73 yards per attempt. Those are some gaudy numbers, especially against two competent teams in Baltimore and Atlanta. Andy Dalton may may be getting less terrible at football, everyone.
BROWNS +1.5 over Ravens
Brian Hoyer is only averaging just over six yards per pass attempt. He's still outperforming Joe Flacco in that regard. Cleveland is also in the top five in yards per rush attempt. Hoyer is gonna get it done again.
LIONS -2.5 over Packers
The Lions are tops in the league in yards against per play through two games, and need this game to give themselves a shot in the NFC North. Despite two thirds of bettors backing Green Bay, this line has moved a point and a half Detroit's way.
Colts -7 over JAGUARS
I can't back Jacksonville anymore. They've hurt me too much.
PATRIOTS -13.5 over Raiders
New England is second in the NFL in yards against per play. Oakland is 27th in the NFL in offensive yards per play. This will not end well for Oakland.
CARDINALS +3 over 49ers
Arizona's defense is better than both Chicago and Dallas' units, and the Niners will struggle in this spot. Arizona will win a huge game in the division at home.
SEAHAWKS -4.5 over Broncos
So I get to lay less than a touchdown with Seattle at home after a loss? Against a team they beat by about 700 points just a few months ago, who looks worse than they did in that game? Fine.
DOLPHINS -4 over Chiefs
Kansas City has the worst defense and 27th best offense in the NFL, according to Football Outsiders' rankings. Sorry, Smitty, but I'm losing faith in you real quick.
PANTHERS -3 over Steelers
You may think the Steelers are good, but they're actually bad.
Bears -3 over JETS
Chicago won against a much better team on the road in primetime last week, so I'm cool laying a field goal with them this week.
Last Week: 10-6
This Week: 0-1
2014 Season: 18-15