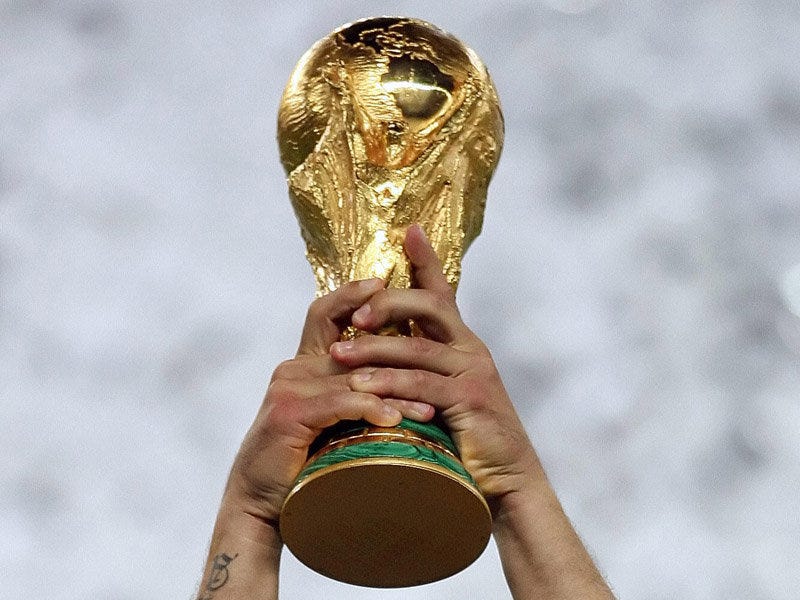 The World Cup draw is in the books, and the United States are as screwed as it gets. Fortunately, the sweet, sweet allure of gambling will help us all take our minds off of that fact, as the group stage betting odds have been released.
William Hill has put out its odds on which team will win each group, which are as follows (click to enlarge):
While there are some very obvious choices in here (hello, Brazil!), there are also a few great value plays if you have the balls to give them a shot.
Getting Holland at 2/1 odds to win Group C is a dream. If they can grab three points from Spain, you'd get a great payout for choosing a 2010 World Cup finalist to take that group, which is definitely worth a shot. Also in Group C, getting the defending World Champions at better than 1/1.5 odds is great if you are confident enough in Spain to win the group.
In Group D, the seeded team in the group, Uruguay, is at +175 to win the group, which is also a nice value. Italy will be their biggest competition but, if they can pull it off, you are getting a great price for backing them. With Italy not getting any younger, there's no reason not to go with Suarez and company here.
Betting on Group E is all about one thing: banking on a French meltdown. Les Blues, who barely even qualified for the tournament, are favorites to win their group which, given FIFA's history benevolence towards France, seems a little bit too convenient for me. If they manage to screw things up like they did in 2010, Switzerland and Ecuador are both good value to win the group. France isn't at terrible odds either at -125, in case you are looking to back the group favorite.
America's group, Group G, should go to Germany, but hear me out. The United States is at +1000, or 10/1, odds to win the group. Say Jurgen Klinsmann can get his team into form for the tournament. That's some great payout if it happens, right? What? You say that the US has no chance to advance and that it'd be foolish to bet on them to win the group? Go live in Ghana then, you heretic.
Belgium, at -175, is a decent value to win Group H. Belgium are really, really good, yet don't receive the credit of more established world powers. Watch out for them in this tournament.
Who do you like in the World Cup's group stages? Argue with me in the discussion below.