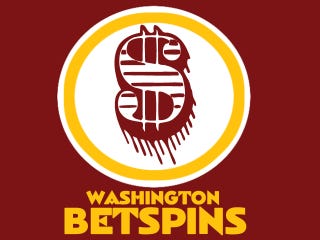 Man, the NFL has done a hell of a job picking teams to spotlight on Thursday Night Football early in the season. Like this game, in which the Washington Football Team will host the New York Giants.
Previously, we had the league's moral standard bearers in Baltimore showcased on the same week it was revealed that their response to watching a video of one of their punching a woman in the face was to suspend him for two games. This Thursday, we will see the Washington Football Team take center stage just a night after South Park laid waste to their disgusting, racist namesake having organization.
So allow me to solve the Washington Football team name debate before we get to this pick: they should rename the team the Washington Betspins. It's not racist, it rhymes with the soon-to-be replaced name, and it'll promote some damn good content on the Internet. Win-win-win situation if you ask me.
Anyway, about these picks.
Line: WASHINGTON -3.5 vs. Giants
Over/Under: 46
Despite giving up 37 points to Philadelphia, did you know that Washington has the third ranked defense in the NFL according to Football Outsiders? Their real strength is against the run, where they're allowing a league best 2.8 yards per carry. This means that Eli Manning's derpy ass is going to have to carry the Giants offense, which means the under is a mortal lock.
Over/Under: UNDER 46
As for the outcome of the game itself, I don't think this game is going to be close at all, and that's before factoring in that home teams are 3-0 both straight up and against the spread on Thursday Night Football so far this season.
Kirk Cousins, in addition to stealing Robert Griffin III's cameo on South Park tonight, is fourth in the NFL in passing yards per attempt and is a full yard and a half per attempt better than Eli Manning. The Giants, by the way, are tied for 30th in the NFL in pass yards against per attempt, allowing 8.1 yards per pass against the trio of Matt Stafford, Drew Stanton, and Ryan Fitzpatrick. That's not good for the Giants.
And if you think that the Giants will keep up with the Washington offense, despite playing the aforementioned stout Washington defense, remember that the Giants are in the bottom half of the league in both pass and rush yards per attempt. This game is gonna be ugly.
Pick: WASHINGTON -3.5
Last Week: 8-8
ATS 2014 Season: 26-22
2014 Over/Unders: 3-0