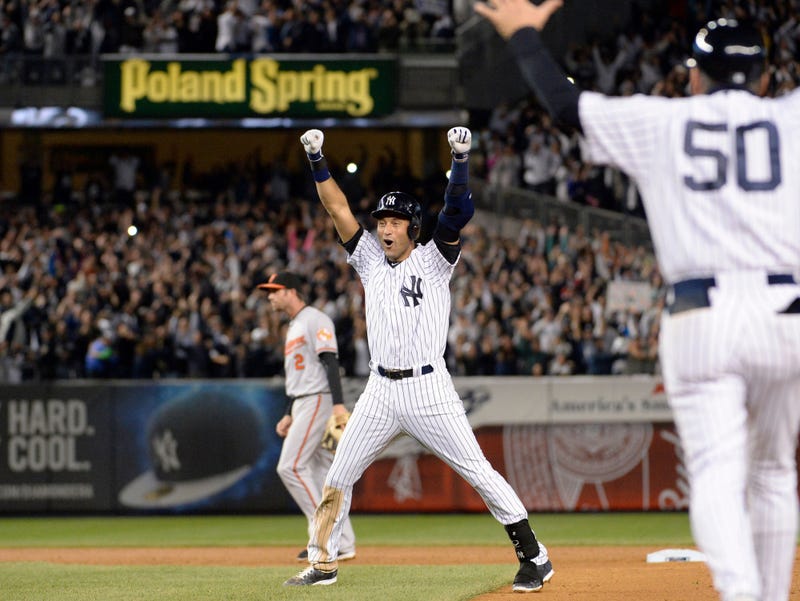 My dad was always a big baseball fan. He still is. I was a big baseball fan when I was younger, because I wanted to be just like him. In a lot of ways, my dad was a superhero to me. In a lot of ways, he still kind of is. This is a story about Derek Jeter, but it's also a story about him.
When I was one year old, Derek Jeter was drafted by the New York Yankees. I was a baby, but my parents say that I was smart for my age. I don't remember any of that, which is to say that I can't remember a time in my life in which Derek Jeter was not a professional baseball player.
As I got a little older, I was able to comprehend what baseball was to some small degree. I vaguely remember my family watching the Yankees' Game Five loss in the ALDS to Seattle. My dad called Ken Griffey Jr. a punk afterwards, a nickname that stuck with him in the Sanin household for quite a while.
The following season, my parents took me to my first Yankee game. We sat just behind the first base dugout to see the Yankees play the Minnesota Twins. I think the Yankees won, but that didn't matter given how cool it was to be at Yankee Stadium for the first time.
My dad and I went back later that season, this time with my grandpa and cousin Justin, on September 21, 1996, as the Yankees were looking to draw closer to clinching a playoff berth. They were playing the Boston Red Sox, and their magic number for a playoff spot was just six games.
I used to idolize my cousin, who was just a few years older than me. He was just old enough for me to think he was super cool, whether he was or not. When we got a little older, our parents got into an argument about some things that probably weren't as big a deal as people tend to make them, and we didn't see each other anymore.
Before the game, we went to see Monument Park, which I had never seen before. Here's a picture of my dad and I at the monuments.
As for the game itself, it was a classic. No, seriously, I saw it on ESPN Classic not too long ago. The game went ten innings, and was tied at 11 in the bottom of the tenth. The bases were loaded, and Derek Jeter came to the plate.
It was Derek Jeter's first walk off hit, and the first of many Derek Jeter moments I'd share with my dad over the years.
Shortly after, Jeter (with an assist from Jeffrey Maier), helped the Yankees get by the Orioles in the ALDS. I didn't really understand the rules surrounding that play at the time, but we were all pretty happy with the results.
The Yankees went on to win the World Series that year, and my parents introduced me to a tradition they picked up in the Bronx before moving us up to Orange County, NY: the celebratory banging of pots after a Yankee World Series win.
We ended up performing that exercise four times during my childhood, with Jeter performing better in each of those World Series victories. By title number four, Jeter had hit .409 and won World Series MVP honors against the Mets, perhaps the sweetest of the Yankees' recent championships for a then-fifth grader in an elementary school full of Mets fans.
In 2001, we wanted to bang the pots again, and Jeter's flip play kept that dream alive for at least a little while longer.
The pots were out and ready to go in the bottom of the ninth during Game Seven of the World Series in 2001, but we don't need to talk about that anymore, except to say that bringing the infield in is the worst.
Looking back, our neighboors deserve a lot of credit for not beating us with some form of cookware as punishment for all the noise we made. My parents also deserve a lot of credit for letting me stay up later than any ten year old should on a school night to see Jeter earn his Mr. November title with his walk off home run at 12:03 a.m.
As the years went on, and I started to get into other sports and activities, I didn't watch as much baseball. But we were always in the right place at the right time when Jeter did something awesome.
We were on a family vacation to California in 2004 when Jeter flew into the stands against the Red Sox. Since this was before the era of streaming media and smartphones, we had to sit in the hotel and wait impatiently for Baseball Tonight to show the clip. It was well worth the wait.
In 2009, I was a college sophomore. I had a girlfriend, was covering sports for the school paper, and really thought I had things figured out. The Yankees won World Series number 27 that season, with Derek Jeter batting .407 in the series.
Outside of Colonial Quad at the University at Albany, people were gathering to go celebrate at the big fountain in the middle of campus. The only other time this happened during my four years there was when President Obama was elected for his first term in 2008.
I had briefly stepped outside to check things out and chant and join in the revelry. But I didn't make it off the quad and to the big celebration at the fountain. Instead, I gave my dad a call, and we talked all about the championship, and how cool the new stadium's giant screen looked during the celebration.
And we talked about Derek Jeter.
I asked him whether he thought that Jeter was the best shortstop of all time, a question that was silly then and even sillier after his decline in recent years. I don't remember his answer, or mine for that matter. But I know that Derek Jeter will always be the best in my book.
That girlfriend and I eventually graduated college, went off on our own, and got married. I watch way more football, soccer, and basketball than baseball these days, much to the chagrin of my dad. But we'll always have the times we used to watch every game together, and we'll always have Derek Jeter.
Recently, my wife and I went to visit my parents for their birthdays, which are 13 days apart. When we got in, my dad and I had a beer together. We used to have to wait for Baseball Tonight to show us highlights if we weren't home for a Yankee game. Now, we take selfies together with beers in hand for our Facebook friends.
During that beer, we got to talking about baseball. These days, my dad likes to give me shit about not watching games anymore. But this conversation wasn't a light one. He meant business this time.
"You're going to watch Jeter's last home game at least, right?" he said.
I told him that I didn't know, and he wasn't having any of it. I was watching Derek Jeter's last game at Yankee Stadium.
After Jeter's walk off hit tonight, and the tears that followed, I'm glad I did. I looked back at the photos of our trip to that game against the Red Sox in '96, and it was just overwhelming. Then I got a text message from my dad.
Was Derek Jeter's defense great? No. Were the Rovellian marketing campaigns that surrounded his year long farewell tour a bit much? Totally. But did Derek Jeter help me bond with my dad, even as my interest in the sport died out? He sure did.
To be honest, I may never go out of my way to watch baseball again. I couldn't care less about even the most gifted athletes in the sport anymore, in large part due to Major League Baseball's own doing.
This felt like a series finale for me. It was the series finale of baseball, where I got closure through the most interesting character on the show. While looking at those photos from '96, I smiled, because it's only appropriate that my experience with Major League Baseball ends this way; exactly the way it started.
Yeah, Jeets. And thanks.